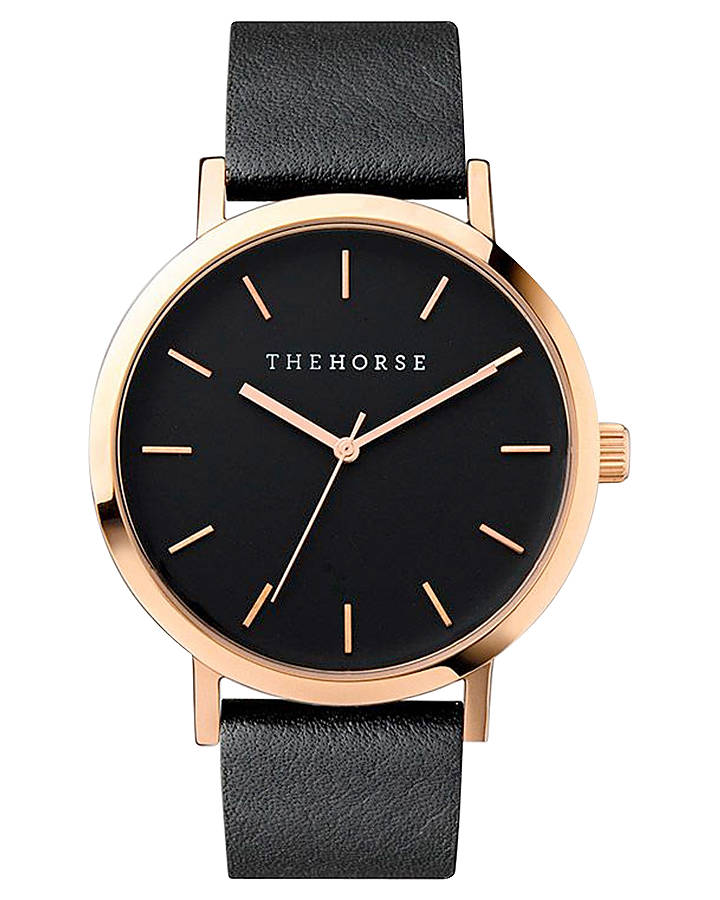 We Specialize in The Horse Watches!
The Horse Watch Battery Replacement
Done 100% Via Mail!
Did your favorite The Horse Watch stop ticking? We know the feeling, but don't worry, WatchGnome is here. WatchGnome is America's #1 mail-in watch battery replacement service. Now you don't have to take it to a fancy jeweler to replace the battery. WatchGnome specializes in fast, easy and affordable The Horse watch battery replacement. WatchGnome handles the whole process for you and you never have to leave your house.
Fast, Reliable & Affordable
How we make The Horse watch battery replacement easy
Order: When you place your order, WatchGnome sends a padded box and prepaid return shipping label straight to you.
Pack it up: Just pack your The Horse watch up securely. Place the USPS first class label on the box and drop in any mailbox.
Replace battery: We get your The Horse watch back to our workshop and change out your old watch battery for a fresh new one. Then we polish it up & set the time.
Straight back to you: We pack it up and send it straight back to you.
You'll get your The Horse back in just a few days without ever having to leave your house!
★★★★★
WATCH GNOME WALKS THE WALK
They told me about the box (with padding), prepaid mailing, new battery, quick turnaround time, and that's just what happened!
2 years ago with Company X, it was $100+ and 2 weeks, this time 1/3 the price and half the time. Bravo, Watch Gnome!
It was cleaned and set to the right time - no easy feat with my Tissot. Nice to find a company that does what it promises.
Robert B.
The Horse Watches
The Horse is a company operated by husband an wife in Australia
The company was established in 2009 by Scott and his friend Gabrielle as a leather footwear label over a coffee one sunny Sunday afternoon, after seeing a man walk past wearing beautiful brown leather shoes and no socks.
In 2013 they launched their watch collection and have not looked back since.

WatchGnome mail order watch battery replacement
WatchGnome is proud to offer The Horse watch battery replacement. We love their products and are always excited to see one arrive in our mail order watch battery replacement boxes. We have been servicing The Horse watches for year and they are one of our most popular services. Watch Gnome has service nearly 1,000 The Horse Batteries in 2016 alone.
The Best Choice for The Horse Battery Replacement
Why choose Watch Gnome? Our experience means 3 great benefits for you and your The Horse Watch.
Top Quality Service
Top Quality Parts
Commitment to you and your The Horse watch
WATCH GNOME: AN AMERICAN COMPANY
Watch Gnome is based in Colorado and is 100% based in the United States. That means all of our shipping, watch servicing and customer service are handled here. We like to make things simple!
The Horse Watch Battery Replacements by Experts - The Best Care For Your Watch
With multiple services for The Horse watch battery replacement, we have the right option to fit your needs. The replacement is cost effective and delivered quickly.
View prices on our watch service types.
See Pricing & Services >
Compare The Horse Battery Prices & Services
Watch Gnome has dedicated years on Bewell watch care and we have changed hundreds of batteries in everything from their Rose Gold to their leather watches and everything in between.
Our expert The Horse technicians have perfected our The Horse battery change procedures so you can be confident your The Horse is covered. Whether it's removing the The Horse case back, replacing the battery or reseating the rubber gasket - your The Horse is in the right hands.
Nationwide Bewell Battery Repair Coverage
We provide service for your Bewell anywhere to you in the United States via our online watch battery service. From Seattle or Los Angeles to Boston or Atlanta if you're covered by USPS, we've got your back.